Back
FCS Picks/Week 4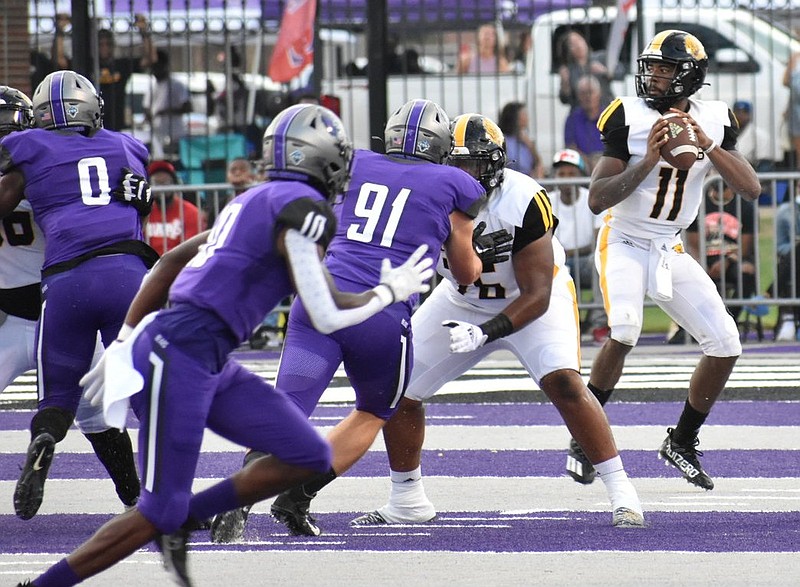 Week 4 of the FCS schedule starts tonight with a SWAC contest as Alcorn State (1-2) travels to Arkansas-Pine Bluff (1-1). Kick off is 7:30 pm ET at Simmons Bank Field.
The Braves have dropped two of their first three games this season with a loss last week against South Alabama (28-21) and in Week 1 against NC Central (23-14) bookending a win over Northwestern State (13-10). Alcorn is averaging 16.0 points per game behind QB Felix Harper, who has completed over 60 percent of his passes for 623 yards and 3 TDs. The defense is allowing just over 20 points per game (20.3).
The Golden Lions return home following last week's loss on the road at Central Arkansas (45-23). QB Skyler Perry leads an offense that is averaging 28.5 points through the first two games, while the defense has given up an average of 30.5.
Dunkel has Alcorn State favored SU in this contest, but does not cover the Vegas line of 6. Dunkel has a score total of 67 points with no Vegas total on the board at the time of this post.
Dunkel's Pick: AR-Pine Bluff (+6).
Below are all of Dunkel's picks for Week 4 of the FCS schedule:

SEPTEMBER 23
Alcorn State at AR-Pine Bluff
Time: 7:30 pm ET
Dunkel Ratings: Alcorn State 51.167; AR-Pine Bluff 48.916
Dunkel Line & Total: Alcorn State by 2; 67
Vegas Line & Total: Alcorn State by 6; No Total
Dunkel Pick: AR-Pine Bluff (+6); N/A
SEPTEMBER 24
Brown at Harvard
Time: 7:00 pm ET
Dunkel Ratings: Brown 45.606; Harvard 63.375
Dunkel Line & Total: Harvard by 18; 59
Vegas Line & Total: Harvard by 15; 64
Dunkel Pick: Harvard (-15); Under
SEPTEMBER 25
Richmond at Virginia Tech
Time: 12:00 pm ET
Dunkel Ratings: Richmond 59.101; Virginia Tech 97.066
Dunkel Line & Total: Virginia Tech by 38; 49
Vegas Line & Total: Virginia Tech by 34 ½; 42 ½
Dunkel Pick: Virginia Tech (-34 ½); Over

Wagner at Temple
Time: 12:00 pm ET
Dunkel Ratings: Wagner 37.686; Temple 61.226
Dunkel Line & Total: Temple by 23 ½; 61
Vegas Line & Total: Temple by 27 ½; 54
Dunkel Pick: Wagner (+27 ½); Over
New Hampshire at Pittsburgh
Time: 12:00 pm ET
Dunkel Ratings: New Hampshire 58.058; Pittsburgh 90.610
Dunkel Line & Total: Pittsburgh by 32 ½; 47
Vegas Line & Total: Pittsburgh by 28; 54
Dunkel Pick: Pittsburgh (-28); Under
Villanova at Penn State
Time: 12:00 pm ET
Dunkel Ratings: Villanova 76.021; Penn State 104.506
Dunkel Line & Total: Penn State by 28 ½; 51
Vegas Line & Total: Penn State by 33 ½; 55 ½
Dunkel Pick: Villanova (+33 ½); Under
Norfolk State at St. Francis-PA
Time: 12:00 pm ET
Dunkel Ratings: Norfolk State 52.177; St. Francis-PA 50.009
Dunkel Line & Total: Norfolk State by 2; 51
Vegas Line & Total: St. Francis-PA by 3 ½; 55 ½
Dunkel Pick: Norfolk State (+3 ½); Under
McNeese State at Incarnate Word
Time: 12:00 pm ET
Dunkel Ratings: McNeese State 56.168; Incarnate Word 69.517
Dunkel Line & Total: Incarnate Word by 13 ½; 71
Vegas Line & Total: Incarnate Word by 7 ½; 67
Dunkel Pick: Incarnate Word (-7 ½); Over
Howard at Robert Morris
Time: 12:00 pm ET
Dunkel Ratings: Howard 27.202; Robert Morris 45.490
Dunkel Line & Total: Robert Morris by 18 ½; 50
Vegas Line & Total: Robert Morris by 8 ½; 54 ½
Dunkel Pick: Robert Morris (-8 ½); Under
Cornell at Yale
Time: 12:00 pm ET
Dunkel Ratings: Cornell 48.946; Yale 64.023
Dunkel Line & Total: Yale by 15; 45
Vegas Line & Total: Yale by 10 ½; 47 ½
Dunkel Pick: Yale (-10 ½); Under
Central Connecticut at Miami-FL
Time: 12:30 pm ET
Dunkel Ratings: Central Connecticut 48.265; Miami-FL 90.139
Dunkel Line & Total: Miami-FL by 42; 59
Vegas Line & Total: Miami-FL by 34 ½; 51 ½
Dunkel Pick: Miami-FL (-34 ½); Over
Presbyterian at Dayton
Time: 1:00 pm ET
Dunkel Ratings: Presbyterian 37.741; Dayton 39.916
Dunkel Line & Total: Dayton by 2; 69
Vegas Line & Total: Dayton by 9 ½; 65 ½
Dunkel Pick: Presbyterian (+9 ½); Over
Butler at St. Thomas
Time: 1:00 pm ET
Dunkel Ratings: Butler 23.865; St. Thomas 35.551
Dunkel Line & Total: St. Thomas by 11 ½; 46
Vegas Line & Total: No Line
Dunkel Pick: N/A
Georgetown at Columbia
Time: 1:00 pm ET
Dunkel Ratings: Georgetown 37.670; Columbia 42.441
Dunkel Line & Total: Columbia by 5; 48
Vegas Line & Total: Columbia by 14 ½; 43 ½
Dunkel Pick: Georgetown (+14 ½); Over
Holy Cross at Monmouth
Time: 1:00 pm ET
Dunkel Ratings: Holy Cross 58.474; Monmouth 62.665
Dunkel Line & Total: Monmouth by 4; 61
Vegas Line & Total: Monmouth by 7; 52 ½
Dunkel Pick: Holy Cross (+7); Over
Lehigh at Colgate
Time: 1:00 pm ET
Dunkel Ratings: Lehigh 31.156; Colgate 43.744
Dunkel Line & Total: Colgate by 12 ½; 36
Vegas Line & Total: Colgate by 6; 30 ½
Dunkel Pick: Colgate (-6); Over
Stetson at Princeton
Time: 1:00 pm ET
Dunkel Ratings: Stetson 23.730; Princeton 65.942
Dunkel Line & Total: Princeton by 42; 61
Vegas Line & Total: Princeton by 35 ½; 55 ½
Dunkel Pick: Princeton (-35 ½); Over
San Diego at Davidson
Time: 1:00 pm ET
Dunkel Ratings: San Diego 43.584; Davidson 38.105
Dunkel Line & Total: San Diego by 5 ½; 67
Vegas Line & Total: Davidson by 1 ½; 59
Dunkel Pick: San Diego (+1 ½); Over
South Dakota State at Indiana State
Time: 1:00 pm ET
Dunkel Ratings: South Dakota State 87.064; Indiana State 64.315
Dunkel Line & Total: South Dakota State by 22 ½; 43
Vegas Line & Total: South Dakota State by 8 ½; 46 ½
Dunkel Pick: South Dakota State (-8 ½); Under
Valparaiso at Drake
Time: 1:00 pm ET
Dunkel Ratings: Valparaiso 38.601; Drake 39.755
Dunkel Line & Total: Drake by 1; 41
Vegas Line & Total: Drake by 10; 44 ½
Dunkel Pick: Valparaiso (+10); Under
Wofford at VMI
Time: 1:30 pm ET
Dunkel Ratings: Wofford 55.771; VMI 54.701
Dunkel Line & Total: Wofford by 1; 64
Vegas Line & Total: VMI by 2 ½; 54 ½
Dunkel Pick: Wofford (+2 ½); Over
Sacred Heart at Dartmouth
Time: 1:30 pm ET
Dunkel Ratings: Sacred Heart 54.374; Dartmouth 57.989
Dunkel Line & Total: Dartmouth by 3 ½; 40
Vegas Line & Total: Dartmouth by 10 ½; 35 ½
Dunkel Pick: Sacred Heart (+10 ½); Over
William & Mary at Elon
Time: 2:00 pm ET
Dunkel Ratings: William & Mary 60.266; Elon 52.849
Dunkel Line & Total: William & Mary by 7 ½; 33
Vegas Line & Total: William & Mary by 1 ½; 38 ½
Dunkel Pick: William & Mary (-1 ½); Under
Merrimack at Delaware State
Time: 2:00 pm ET
Dunkel Ratings: Merrimack 46.806; Delaware State 37.413
Dunkel Line & Total: Merrimack by 9 ½; 57
Vegas Line & Total: Merrimack by 6; 52 ½
Dunkel Pick: Merrimack (-6); Over
Mercer at Furman
Time: 2:00 pm ET
Dunkel Ratings: Mercer 59.371; Furman 64.559
Dunkel Line & Total: Furman by 5; 47
Vegas Line & Total: Furman by 3; 50 ½
Dunkel Pick: Furman (-3); Under
Maine at Northern Illinois
Time: 2:30 pm ET
Dunkel Ratings: Maine 45.071; Northern Illinois 73.006
Dunkel Line & Total: Northern Illinois by 28; 74
Vegas Line & Total: Northern Illinois by 24 ½; 69 ½
Dunkel Pick: Northern Illinois (-24 ½); Over
Eastern Illinois at Tennessee Tech
Time: 2:30 pm ET
Dunkel Ratings: Eastern Illinois 48.033; Tennessee Tech 40.101
Dunkel Line & Total: Eastern Illinois by 8; 44
Vegas Line & Total: Eastern Illinois by 2; 47 ½
Dunkel Pick: Eastern Illinois (-2); Under
Tennessee State at SE Missouri State
Time: 3:00 pm ET
Dunkel Ratings: Tennessee State 42.688; SE Missouri State 49.815
Dunkel Line & Total: SE Missouri State by 7; 61
Vegas Line & Total: SE Missouri State by 13; 56 ½
Dunkel Pick: Tennessee State (+13); Over
Northern Arizona at Northern Colorado
Time: 3:00 pm ET
Dunkel Ratings: Northern Arizona 61.655; Northern Colorado 54.069
Dunkel Line & Total: Northern Arizona by 7 ½; 36
Vegas Line & Total: Pick; 45 ½
Dunkel Pick: Northern Arizona; Under
Sacramento State at Idaho State
Time: 3:00 pm ET
Dunkel Ratings: Sacramento State 64.393; Idaho State 63.725
Dunkel Line & Total: Sacramento State by ½; 51
Vegas Line & Total: Sacramento State by 6 ½; 55 ½
Dunkel Pick: Idaho State (+6 ½); Under
Illinois State at Southern Illinois
Time: 3:00 pm ET
Dunkel Ratings: Illinois State 65.848; Southern Illinois 74.387
Dunkel Line & Total: Southern Illinois by 8 ½; 55
Vegas Line & Total: Southern Illinois by 15 ½; 50 ½
Dunkel Pick: Illinois State (+15 ½); Over
East Tennessee State at Samford
Time: 3:00 pm ET
Dunkel Ratings: East Tennessee State 70.866; Samford 64.276
Dunkel Line & Total: East Tennessee State by 6 ½; 64
Vegas Line & Total: East Tennessee State by 1 ½; 55 ½
Dunkel Pick: East Tennessee State (-1 ½); Over
Cal Poly at Montana
Time: 3:00 pm ET
Dunkel Ratings: Cal Poly 42.162; Montana 90.281
Dunkel Line & Total: Montana by 48; 48
Vegas Line & Total: Montana by 35; 53 ½
Dunkel Pick: Montana (-35); Under
Austin Peay at Eastern Kentucky
Time: 3:00 pm ET
Dunkel Ratings: Austin Peay 57.728; Eastern Kentucky 63.088
Dunkel Line & Total: Eastern Kentucky by 5 ½; 49
Vegas Line & Total: Austin Peay by 3 ½; 58 ½
Dunkel Pick: Eastern Kentucky (+3 ½); Under
Towson at San Diego State
Time: 3:30 pm ET
Dunkel Ratings: Towson 62.986; San Diego State 90.920
Dunkel Line & Total: San Diego State by 28; 37
Vegas Line & Total: San Diego State by 23 ½; 41 ½
Dunkel Pick: San Diego State (-23 ½); Under
Pennsylvania at Lafayette
Time: 3:30 pm ET
Dunkel Ratings: Pennsylvania 51.715; Lafayette 51.100
Dunkel Line & Total: Pennsylvania by ½; 29
Vegas Line & Total: Pennsylvania by 3 ½; 38 ½
Dunkel Pick: Lafayette (+3 ½); Under
Fordham at Stony Brook
Time: 3:30 pm ET
Dunkel Ratings: Fordham 53.795; Stony Brook 60.423
Dunkel Line & Total: Stony Brook by 6 ½; 52
Vegas Line & Total: Stony Brook by 9 ½; 48 ½
Dunkel Pick: Fordham (+9 ½); Over
Tennessee-Martin at Jacksonville State
Time: 4:00 pm ET
Dunkel Ratings: Tennessee-Martin 63.935; Jacksonville State 68.602
Dunkel Line & Total: Jacksonville State by 4 ½; 38
Vegas Line & Total: Jacksonville State by 7; 47 ½
Dunkel Pick: Tennessee-Martin (+7); Under
North Alabama at Nicholls State
Time: 4:00 pm ET
Dunkel Ratings: North Alabama 45.717; Nicholls State 68.746
Dunkel Line & Total: Nicholls State by 23; 62
Vegas Line & Total: Nicholls State by 16; 55 ½
Dunkel Pick: Nicholls State (-16); Over
Sam Houston State at Central Arkansas
Time: 5:00 pm ET
Dunkel Ratings: Sam Houston State 86.092; Central Arkansas 64.410
Dunkel Line & Total: Sam Houston State by 21 ½; 72
Vegas Line & Total: Sam Houston State by 11 ½; 63 ½
Dunkel Pick: Sam Houston State (-11 ½); Over
Grambling at Prairie View
Time: 5:00 pm ET
Dunkel Ratings: Grambling 43.720; Prairie View 41.362
Dunkel Line & Total: Grambling by 2 ½; 51
Vegas Line & Total: Prairie View by 6 ½; 43 ½
Dunkel Pick: Grambling (+6 ½); Over
Montana State at Portland State
Time: 5:05 pm ET
Dunkel Ratings: Montana State 79.842; Portland State 58.944
Dunkel Line & Total: Montana State by 21; 66
Vegas Line & Total: Montana State by 12 ½; 62 ½
Dunkel Pick: Montana State (-12 ½); Over
Charleston Southern at East Carolina
Time: 6:00 pm ET
Dunkel Ratings: Charleston Southern 58.839; East Carolina 79.232
Dunkel Line & Total: East Carolina by 20 ½; 59
Vegas Line & Total: East Carolina by 27 ½; 55 ½
Dunkel Pick: Charleston Southern (+27 ½); Over
Western Illinois at Youngstown State
Time: 6:00 pm ET
Dunkel Ratings: Western Illinois 56.502; Youngstown State 71.510
Dunkel Line & Total: Youngstown State by 15; 61
Vegas Line & Total: Youngstown State by 7 ½; 65 ½
Dunkel Pick: Youngstown State (-7 ½); Under
Western Carolina at Gardner Webb
Time: 6:00 pm ET
Dunkel Ratings: Western Carolina 45.679; Gardner Webb 52.220
Dunkel Line & Total: Gardner Webb by 6 ½; 57
Vegas Line & Total: Gardner Webb by 3 ½; 63 ½
Dunkel Pick: Gardner Webb (-3 ½); Under
NC Central at NC A&T
Time: 6:00 pm ET
Dunkel Ratings: NC Central 44.783; NC A&T 56.973
Dunkel Line & Total: NC A&T by 12; 44
Vegas Line & Total: NC A&T by 10 ½; 48 ½
Dunkel Pick: NC A&T (-10 ½); Under
Bethune Cookman at Alabama State
Time: 6:00 pm ET
Dunkel Ratings: Bethune Cookman 43.319; Alabama State 46.992
Dunkel Line & Total: Alabama State by 3 ½; 47
Vegas Line & Total: Bethune Cookman by 3; 54 ½
Dunkel Pick: Alabama State (+3 ½); Under
Bryant at Marist
Time: 6:00 pm ET
Dunkel Ratings: Bryant 43.272; Marist 28.973
Dunkel Line & Total: Bryant by 14 ½; 53
Vegas Line & Total: Bryant by 6 ½; 48 ½
Dunkel Pick: Bryant (-6 ½); Over
Texas Southern at Rice
Time: 6:30 pm ET
Dunkel Ratings: Texas Southern 25.973; Rice 61.507
Dunkel Line & Total: Rice by 35 ½; 47
Vegas Line & Total: Rice by 22 ½; 54 ½
Dunkel Pick: Rice (-22 ½); Under
Abilene Christian at Lamar
Time: 7:00 pm ET
Dunkel Ratings: Abilene Christian 48.228; Lamar 50.671
Dunkel Line & Total: Lamar by 2 ½; 43
Vegas Line & Total: Abilene Christian by 2 ½; 51 ½
Dunkel Pick: Lamar (+2 ½); Under

Eastern Washington at Southern Utah
Time: 8:00 pm ET
Dunkel Ratings: Eastern Washington 69.097; Southern Utah 62.737
Dunkel Line & Total: Eastern Washington by 6 ½; 72
Vegas Line & Total: Eastern Washington by 9 ½; 81 ½
Dunkel Pick: Southern Utah (+9 ½); Under
UC-Davis at Weber State
Time: 8:00 pm ET
Dunkel Ratings: UC-Davis 75.002; Weber State 77.784
Dunkel Line & Total: Weber State by 3; 49
Vegas Line & Total: Pick; 58 ½
Dunkel Pick: Weber State; Under
South Dakota at Missouri State
Time: 8:00 pm ET
Dunkel Ratings: South Dakota 72.587; Missouri State 67.197
Dunkel Line & Total: South Dakota by 5 ½; 53
Vegas Line & Total: South Dakota by 2; 47 ½
Dunkel Pick: South Dakota (-2); Over
SEPTEMBER 26
Southern at Mississippi Valley State
Time: 3:00 pm ET
Dunkel Ratings: Southern 42.703; Mississippi Valley State 34.689
Dunkel Line & Total: Southern by 8; 57
Vegas Line & Total: Southern by 11 ½; 51 ½
Dunkel Pick: Mississippi Valley State (+11 ½); Over