Back
FCS Picks/Week 7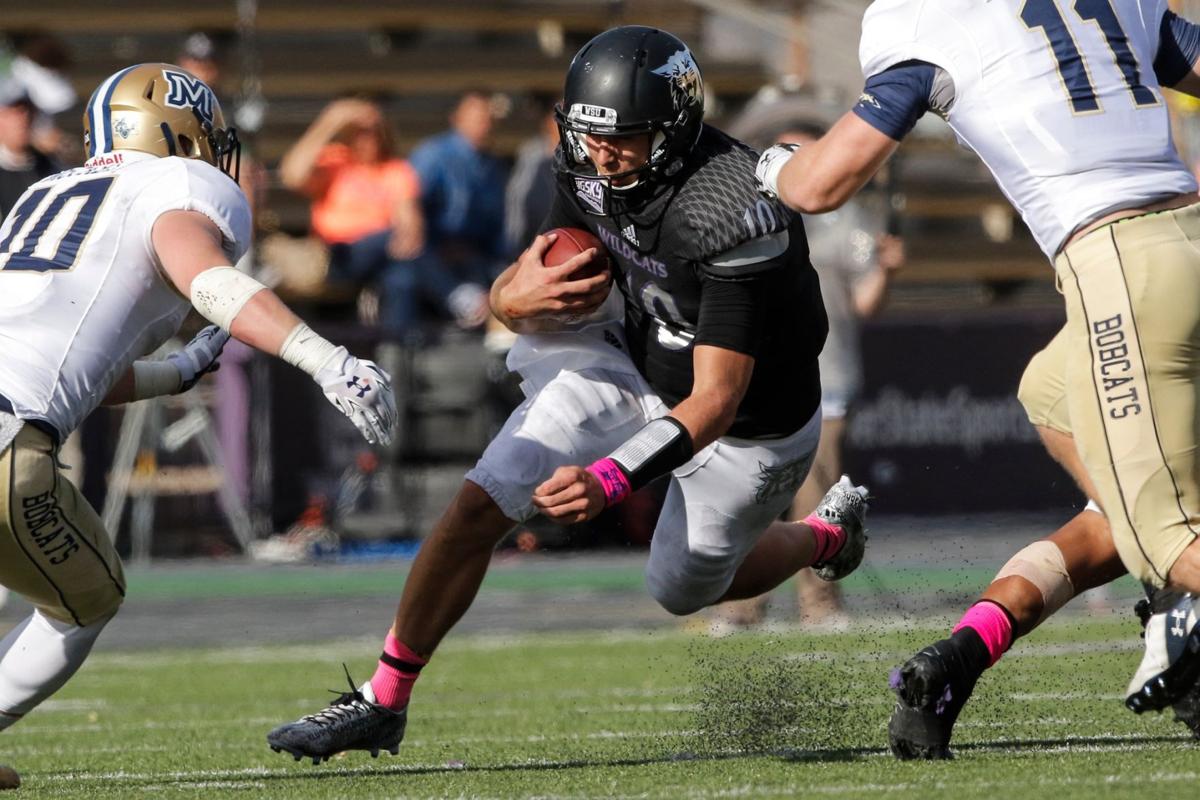 The Montana State Bobcats put their undefeated record in the Big Sky Conference on the line Friday night as they head to Weber State to take on the Wildcats. Game time is 10:00 pm ET at Stewart Stadium.
The Bobcats (5-2, 3-0 in the Big Sky) extended their overall winning streak to five straight last week with a 45-7 win over Cal Poly. Montana State dominated on both sides of the ball, outgaining the Mustangs 441-261, while also forcing four interceptions on the defensive end. QB Matthew McKay completed 14-of-18 with 2 TDs and has 13 TD passes on the season against only one pick.
Weber State (2-3, 1-1) had the week off following a 38-7 win over Cal Poly the week before. The win snapped a two-game losing streak for the Wildcats following losses to James Madison (37-24) and UC-Davis (17-14).
Dunkel has the Bobcats winning on the road and covering the Vegas line of -1 ½ with the final score going over the Vegas total of 44 ½.
Dunkel's Pick: Montana State (-1 ½); Under
Below are all of Dunkel's picks for Week 7 of the FCS schedule:
OCTOBER 15
Colgate at Cornell
Time: 7:00 pm ET
Dunkel Ratings: Colgate 46.781; Cornell 42.324
Dunkel Line & Total: Colgate by 4 ½; 39
Vegas Line & Total: Pick; 34 ½
Dunkel Pick: Colgate; Over
Montana State at Weber State
Time: 10:00 pm ET
Dunkel Ratings: Montana State 81.932; Weber State 73.067
Dunkel Line & Total: Montana State by 9; 48
Vegas Line & Total: Montana State by 1 ½; 44 ½
Dunkel Pick: Montana State (-1 ½); Over
OCTOBER 16
Yale at Connecticut
Time: 12:00 pm ET
Dunkel Ratings: Yale 61.699; Connecticut 50.809
Dunkel Line & Total: Yale by 11; 42
Vegas Line & Total: Yale by 3; 45 ½
Dunkel Pick: Yale (-3); Under

William & Mary at Maine
Time: 12:00 pm ET
Dunkel Ratings: William & Mary 54.928; Maine 54.230
Dunkel Line & Total: William & Mary by ½; 49
Vegas Line & Total: William & Mary by 8 ½; 53
Dunkel Pick: Maine (+8 ½); Under

St. Francis-PA at Bryant
Time: 12:00 pm ET
Dunkel Ratings: St. Francis-PA 46.883; Bryant 53.066
Dunkel Line & Total: Bryant by 6; 56
Vegas Line & Total: Bryant by 3; 50 ½
Dunkel Pick: Bryant (-3); Over
Marist at Dayton
Time: 12:00 pm ET
Dunkel Ratings: Marist 41.296; Dayton 39.247
Dunkel Line & Total: Marist by 2; 49
Vegas Line & Total: Dayton by 7; 54 ½
Dunkel Pick: Marist (+7); Under
Merrimack at LIU
Time: 12:00 pm ET
Dunkel Ratings: Merrimack 42.244; LIU 32.097
Dunkel Line & Total: Merrimack by 10; 61
Vegas Line & Total: Merrimack by 13 ½; 58 ½
Dunkel Pick: LIU (+13 ½); Over
Nicholls State at Incarnate Word
Time: 12:00 pm ET
Dunkel Ratings: Nicholls State 65.704; Incarnate Word 66.062
Dunkel Line & Total: Incarnate Word by ½; 61
Vegas Line & Total: Incarnate Word by 7; 70 ½
Dunkel Pick: Nicholls State (+7); Under
Princeton at Brown
Time: 12:30 pm ET
Dunkel Ratings: Princeton 67.156; Brown 45.776
Dunkel Line & Total: Princeton by 21 ½; 58
Vegas Line & Total: Princeton by 16 ½; 55 ½
Dunkel Pick: Princeton (-16 ½); Over
South Dakota State at Western Illinois
Time: 1:00 pm ET
Dunkel Ratings: South Dakota State 81.536; Western Illinois 66.691
Dunkel Line & Total: South Dakota State by 15; 65
Vegas Line & Total: South Dakota State by 23 ½; 72 ½
Dunkel Pick: Western Illinois (+23 ½); Under
Monmouth at Campbell
Time: 1:00 pm ET
Dunkel Ratings: Monmouth 54.427; Campbell 67.091
Dunkel Line & Total: Campbell by 12 ½; 69
Vegas Line & Total: Campbell by 4 ½; 64 ½
Dunkel Pick: Campbell (-4 ½); Over
Dartmouth at New Hampshire
Time: 1:00 pm ET
Dunkel Ratings: Dartmouth 69.118; New Hampshire 60.276
Dunkel Line & Total: Dartmouth by 9; 42
Vegas Line & Total: Pick; 44 ½
Dunkel Pick: Dartmouth; Under
Prairie View at Bethune Cookman
Time: 1:00 pm ET
Dunkel Ratings: Prairie View 45.181; Bethune Cookman 42.511
Dunkel Line & Total: Prairie View by 2 ½; 47
Vegas Line & Total: Prairie View by 12; 55 ½
Dunkel Pick: Bethune Cookman (+12); Under
Lafayette at Harvard
Time: 1:00 pm ET
Dunkel Ratings: Lafayette 57.220; Harvard 67.791
Dunkel Line & Total: Harvard by 10 ½; 49
Vegas Line & Total: Harvard by 17 ½; 44 ½
Dunkel Pick: Lafayette (+17 ½); Over
Central Connecticut at Sacred Heart
Time: 1:00 pm ET
Dunkel Ratings: Central Connecticut 43.622; Sacred Heart 44.615
Dunkel Line & Total: Sacred Heart by 1; 33
Vegas Line & Total: Sacred Heart by 10 ½; 35 ½
Dunkel Pick: Central Connecticut (+10 ½); Under
St. Thomas-MN at Stetson
Time: 1:00 pm ET
Dunkel Ratings: St. Thomas-MN 32.918; Stetson 26.659
Dunkel Line & Total: St. Thomas-MN by 6; 48
Vegas Line & Total: No Line
Dunkel Pick: N/A
Bucknell at Fordham
Time: 1:00 pm ET
Dunkel Ratings: Bucknell 37.640; Fordham 70.791
Dunkel Line & Total: Fordham by 27 ½; 42
Vegas Line & Total: Fordham by 24 ½; 45 ½
Dunkel Pick: Fordham (-24 ½); Under
Georgetown at Holy Cross
Time: 1:30 pm ET
Dunkel Ratings: Georgetown 41.468; Holy Cross 57.171
Dunkel Line & Total: Holy Cross by 15 ½; 55
Vegas Line & Total: Holy Cross by 21; 51
Dunkel Pick: Georgetown (+21); Over
Pennsylvania at Columbia
Time: 1:30 pm ET
Dunkel Ratings: Pennsylvania 49.491; Columbia 44.253
Dunkel Line & Total: Pennsylvania by 5; 33
Vegas Line & Total: Columbia by 2 ½; 38 ½
Dunkel Pick: Pennsylvania (+2 ½); Under
East Tennessee State at Chattanooga
Time: 1:30 pm ET
Dunkel Ratings: East Tennessee State 71.278; Chattanooga 60.699
Dunkel Line & Total: East Tennessee State by 10 ½; 58
Vegas Line & Total: East Tennessee State by 2 ½; 51
Dunkel Pick: East Tennessee State (-2 ½); Over
Samford at Wofford
Time: 1:30 pm ET
Dunkel Ratings: Samford 58.880; Wofford 55.655
Dunkel Line & Total: Samford by 3; 66
Vegas Line & Total: Samford by 6; 72 ½
Dunkel Pick: Wofford (+6); Under
James Madison at Richmond
Time: 2:00 pm ET
Dunkel Ratings: James Madison 81.405; Richmond 61.188
Dunkel Line & Total: James Madison by 20; 37
Vegas Line & Total: James Madison by 13 ½; 47 ½
Dunkel Pick: James Madison (-13 ½); Under
Florida A&M at Alabama A&M
Time: 2:00 pm ET
Dunkel Ratings: Florida A&M 54.622; Alabama A&M 43.558
Dunkel Line & Total: Florida A&M by 11; 69
Vegas Line & Total: Florida A&M by 14 ½; 56 ½
Dunkel Pick: Alabama A&M (+14 ½); Over
Idaho at Eastern Washington
Time: 2:30 pm ET
Dunkel Ratings: Idaho 67.439; Eastern Washington 77.477
Dunkel Line & Total: Eastern Washington by 10; 76
Vegas Line & Total: No Line
Dunkel Pick: N/A
Sacramento State at Montana
Time: 3:00 pm ET
Dunkel Ratings: Sacramento State 70.474; Montana 77.428
Dunkel Line & Total: Montana by 7; 38
Vegas Line & Total: Montana by 15 ½; 41
Dunkel Pick: Sacramento State (+15 ½); Under
Indiana State at Missouri State
Time: 3:00 pm ET
Dunkel Ratings: Indiana State 56.028; Missouri State 75.200
Dunkel Line & Total: Missouri State by 19; 59
Vegas Line & Total: Missouri State by 16; 54
Dunkel Pick: Missouri State (-16); Over
North Dakota State at Illinois State
Time: 3:00 pm ET
Dunkel Ratings: North Dakota State 80.571; Illinois State 63.723
Dunkel Line & Total: North Dakota State by 17; 40
Vegas Line & Total: North Dakota State by 21 ½; 44
Dunkel Pick: Illinois State (+21 ½); Under
North Dakota at Southern Illinois
Time: 3:00 pm ET
Dunkel Ratings: North Dakota 69.609; Southern Illinois 84.232
Dunkel Line & Total: Southern Illinois by 14 ½; 58
Vegas Line & Total: Southern Illinois by 11; 52 ½
Dunkel Pick: Southern Illinois (-11); Over
UT-Martin at Eastern Illinois
Time: 3:00 pm ET
Dunkel Ratings: UT-Martin 63.760; Eastern Illinois 52.419
Dunkel Line & Total: UT-Martin by 11 ½; 39
Vegas Line & Total: No Line
Dunkel Pick: N/A
Murray State at SE Missouri State
Time: 3:00 pm ET
Dunkel Ratings: Murray State 52.838; SE Missouri State 58.138
Dunkel Line & Total: SE Missouri State by 5 ½; 49
Vegas Line & Total: Murray State by 1; 51 ½
Dunkel Pick: SE Missouri State (+1); Under
Tennessee Tech at Tennessee State
Time: 3:00 pm ET
Dunkel Ratings: Tennessee Tech 40.076; Tennessee State 45.809
Dunkel Line & Total: Tennessee State by 6; 48
Vegas Line & Total: Tennessee State by 1 ½; 43 ½
Dunkel Pick: Tennessee State (-1 ½); Over
Butler at Morehead State
Time: 3:00 pm ET
Dunkel Ratings: Butler 18.452; Morehead State 41.034
Dunkel Line & Total: Morehead State by 22 ½; 72
Vegas Line & Total: Morehead State by 16 ½; 69 ½
Dunkel Pick: Morehead State (-16 ½); Over
Alabama State at Jackson State
Time: 3:00 pm ET
Dunkel Ratings: Alabama State 42.811; Jackson State 60.069
Dunkel Line & Total: Jackson State by 17; 50
Vegas Line & Total: Jackson State by 14 ½; 40 ½
Dunkel Pick: Jackson State (-14 ½); Over
Southern at AR-Pine Bluff
Time: 3:00 pm ET
Dunkel Ratings: Southern 43.227; AR-Pine Bluff 40.440
Dunkel Line & Total: Southern by 3; 61
Vegas Line & Total: No Line
Dunkel Pick: N/A
Texas Southern at Grambling
Time: 3:00 pm ET
Dunkel Ratings: Texas Southern 37.253; Grambling 45.976
Dunkel Line & Total: Grambling by 8 ½; 46
Vegas Line & Total: Grambling by 4; 53 ½
Dunkel Pick: Grambling (-4); Under
Villanova at Albany
Time: 3:00 pm ET
Dunkel Ratings: Villanova 72.162; Albany 61.719
Dunkel Line & Total: Villanova by 10 ½; 51
Vegas Line & Total: Villanova by 13 ½; 55 ½
Dunkel Pick: Albany (+13 ½); Under
Delaware at Stony Brook
Time: 3:30 pm ET
Dunkel Ratings: Delaware 57.652; Stony Brook 58.981
Dunkel Line & Total: Stony Brook by 1 ½; 43
Vegas Line & Total: Delaware by 5 ½; 39 ½
Dunkel Pick: Stony Brook (+5 ½); Over
Morgan State at South Carolina State
Time: 3:30 pm ET
Dunkel Ratings: Morgan State 31.586; South Carolina State 49.784
Dunkel Line & Total: South Carolina State by 18; 57
Vegas Line & Total: South Carolina State by 14 ½; 52 ½
Dunkel Pick: South Carolina State (-14 ½); Over
Lamar at Abilene Christian
Time: 4:00 pm ET
Dunkel Ratings: Lamar 41.184; Abilene Christian 53.217
Dunkel Line & Total: Abilene Christian by 12; 46
Vegas Line & Total: Abilene Christian by 15 ½; 49 ½
Dunkel Pick: Lamar (+15 ½); Under
Southern Utah at Northern Arizona
Time: 4:00 pm ET
Dunkel Ratings: Southern Utah 56.574; Northern Arizona 62.272
Dunkel Line & Total: Northern Arizona by 5 ½; 44
Vegas Line & Total: Northern Arizona by 9 ½; 49 ½
Dunkel Pick: Southern Utah (+9 ½); Under
Rhode Island at Towson
Time: 4:00 pm ET
Dunkel Ratings: Rhode Island 69.965; Towson 57.976
Dunkel Line & Total: Rhode Island by 12; 43
Vegas Line & Total: Rhode Island by 4; 46 ½
Dunkel Pick: Rhode Island (-4); Under
Alcorn State at Mississippi Valley State
Time: 4:00 pm ET
Dunkel Ratings: Alcorn State 45.963; Mississippi Valley State 42.450
Dunkel Line & Total: Alcorn State by 3 ½; 53
Vegas Line & Total: Alcorn State by 10; 47 ½
Dunkel Pick: Mississippi Valley State (+10); Over
VMI at Mercer
Time: 4:00 pm ET
Dunkel Ratings: VMI 59.074; Mercer 64.575
Dunkel Line & Total: Mercer by 5 ½; 58
Vegas Line & Total: Mercer by 12 ½; 63 ½
Dunkel Pick: VMI (+12 ½); Under
McNeese State at Northwestern State
Time: 4:00 pm ET
Dunkel Ratings: McNeese State 59.589; Northwestern State 46.364
Dunkel Line & Total: McNeese State by 13; 48
Vegas Line & Total: McNeese State by 5 ½; 40 ½
Dunkel Pick: McNeese State (-5 ½); Over
Eastern Kentucky at Central Arkansas
Time: 5:00 pm ET
Dunkel Ratings: Eastern Kentucky 67.522; Central Arkansas 70.759
Dunkel Line & Total: Central Arkansas by 3; 67
Vegas Line & Total: Central Arkansas by 6 ½; 56 ½
Dunkel Pick: Eastern Kentucky (+6 ½); Over
South Dakota at Northern Iowa
Time: 5:00 pm ET
Dunkel Ratings: South Dakota 68.108; Northern Iowa 83.508
Dunkel Line & Total: Northern Iowa by 15 ½; 33
Vegas Line & Total: Northern Iowa by 9; 38 ½
Dunkel Pick: Northern Iowa (-9); Under
Idaho State at Portland State
Time: 5:00 pm ET
Dunkel Ratings: Idaho State 57.772; Portland State 64.123
Dunkel Line & Total: Portland State by 6 ½; 61
Vegas Line & Total: Portland State by 4; 58
Dunkel Pick: Portland State (-4); Over
NC A&T at Kennesaw State
Time: 5:00 pm ET
Dunkel Ratings: NC A&T 60.015; Kennesaw State 65.458
Dunkel Line & Total: Kennesaw State by 5 ½; 46
Vegas Line & Total: Kennesaw State by 13; 55
Dunkel Pick: NC A&T (+13); Under
Houston Baptist at SE Louisiana
Time: 5:00 pm ET
Dunkel Ratings: Houston Baptist 36.580; SE Louisiana 75.957
Dunkel Line & Total: SE Louisiana by 39 ½; 86
Vegas Line & Total: SE Louisiana by 31 ½; 82 ½
Dunkel Pick: SE Louisiana (-31 ½); Over
Drake at San Diego
Time: 5:00 pm ET
Dunkel Ratings: Drake 32.394; San Diego 43.600
Dunkel Line & Total: San Diego by 11; 46
Vegas Line & Total: San Diego by 7; 40 ½
Dunkel Pick: San Diego (-7); Over
The Citadel at Furman
Time: 6:00 pm ET
Dunkel Ratings: The Citadel 54.658; Furman 58.705
Dunkel Line & Total: Furman by 4; 45
Vegas Line & Total: Furman by 11 ½; 50 ½
Dunkel Pick: The Citadel (+11 ½); Under

Hampton at Charleston Southern
Time: 6:00 pm ET
Dunkel Ratings: Hampton 45.832; Charleston Southern 47.905
Dunkel Line & Total: Charleston Southern by 2; 59
Vegas Line & Total: Charleston Southern by 10 ½; 68 ½
Dunkel Pick: Hampton (+10 ½); Under
Robert Morris at North Alabama
Time: 7:00 pm ET
Dunkel Ratings: Robert Morris 42.079; North Alabama 55.403
Dunkel Line & Total: North Alabama by 13 ½; 44
Vegas Line & Total: North Alabama by 10 ½; 48 ½
Dunkel Pick: North Alabama (-10 ½); Under
Presbyterian at Davidson
Time: 7:00 pm ET
Dunkel Ratings: Presbyterian 32.556; Davidson 40.615
Dunkel Line & Total: Davidson by 8; 65
Vegas Line & Total: Davidson by 14 ½; 78 ½
Dunkel Pick: Presbyterian (+14 ½); Under
Northern Colorado at UC-Davis
Time: 8:00 pm ET
Dunkel Ratings: Northern Colorado 52.990; UC-Davis 67.504
Dunkel Line & Total: UC-Davis by 14 ½; 49
Vegas Line & Total: UC-Davis by 19 ½; 42 ½
Dunkel Pick: Northern Colorado (+19 ½); Over
Tarleton State at Dixie State
Time: 9:00 pm ET
Dunkel Ratings: Tarleton State 48.497; Dixie State 54.813
Dunkel Line & Total: Dixie State by 6 ½; 55
Vegas Line & Total: Dixie State by 2 ½; 50 ½
Dunkel Pick: Dixie State (-2 ½); Over