Back
NBA Power Rankings: More Mojo From Jo-Jo
NBA Previews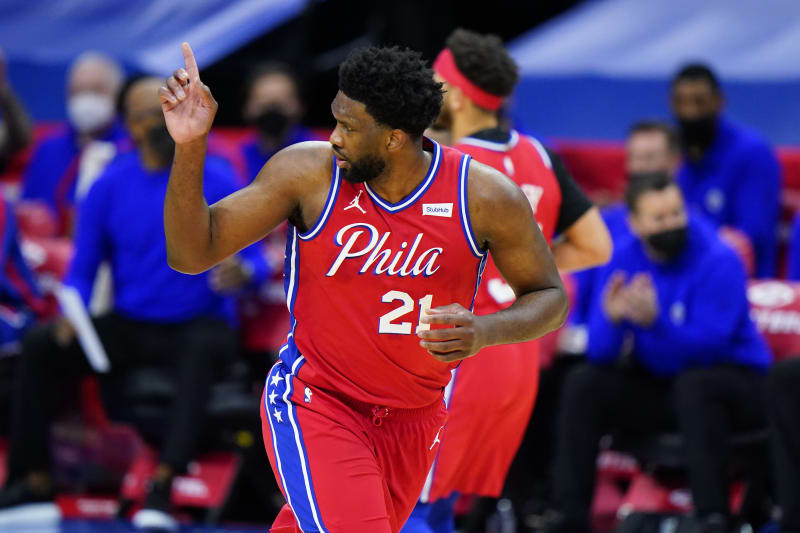 Joel Embiid isn't quite back at the level he was before a knee injury sidelined him for 10 games.
In the 4 games since his return, Embiid is averaging 25.0 ppg, 8.0 rpg and 2.0 assists. That's down slightly from his season averages of 29.4 ppg, 11.1 rpg and 3.1 apg.
The rust was evident in the Sixers game on Friday against the New Orleans Pelicans. Embiid scored just 14 points on 5 of 16 shooting as the Sixers fell the Pels, 101-94. But the MVP candidate looked more like his old self in Saturday's game, a 117-93 win over Oklahoma City.
In just three quarters of work, Embiid had 27 points, 9 rebounds and 4 blocks. He still hasn't found his range from the outside (just 1 of 14 from 3-pt range), but the dominance down low is still a major factor.
Philadelphia, which is tied with the Nets for the best record in the East and ranks No. 4 in Dunkel's latest NBA Power Rankings, are going to need plenty of mojo out of Jo-Jo over the next few weeks. Beginning on Wednesday, the Sixers begin a stretch that will see them face No. 5 Brooklyn, No. 2 Phoenix, No. 3 LA Clippers and No. 8 Milwaukee twice.
NOTHING ROCKY ABOUT GORDON'S START
The addition of Aaron Gordon to the Nuggets lineup was expected to pay immediate dividends and it certainly has.
In the 8 games since joining Denver at the trade deadline, Gordon has averaged 11.6 ppg, 4.1 rpg 2.5 apg and 0.9 blocks. Those may not be eye-popping numbers and are off slightly from his season average of 13.8 ppg, 6.0 rpg, 3.8 apg and 0.8 blocks.
But unlike the numbers he was putting up in Orlando, his Denver production has been leading to victories for the Nuggets. Denver was a perfect 7-0 following Gordon's acquisition before yesterday's 105-87 loss to the Celtics.
The run has moved the Nuggets up to No. 4 in the Western Conference standings and No. 6 in Dunkel's NBA Power Rankings. Gordon and Denver have a good chance of improving on their numbers with a pair of games each against No. 20 Golden State and No. 29 Houston coming up in the next two weeks.
Check out Dunkel's complete NBA Power Rankings