Back
FCS Picks
NCAA FBS Previews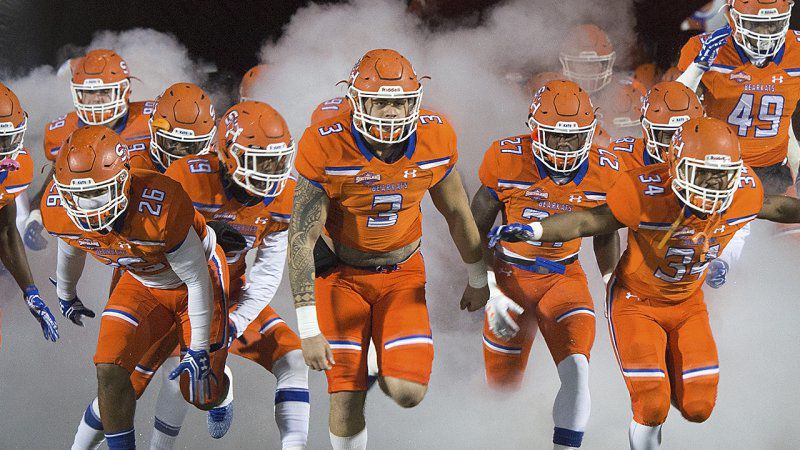 Another week of FCS spring football kicks off this week with a primetime matchup tonight in the Southland Conference between the Sam Houston State BearKats and the Northwestern State Demons. Game time is 7:00 pm ET at Harry "Rags" Turpin Stadium.
This series has traditionally been close with each team sitting on 21 wins coming into tonight's contest. But the teams look to be heading in opposite directions right now.
The BearKats were off last week, but pounded Lamar the week before, 62-7. That same Lamar team upended the Demons last week, 31-23.
Overall, Sam Houston State has won all three of its games thus far while racking up 176 points behind a high-powered offense that is averaging 381.3 yards in passing and 196 yards in rushing.
Northwestern State is 0-4 following the loss to Lamar. Offensively, the Demons have had a hard time putting points on the board with an average of only 19.5 per contest. The defense has been allowing 27.5 points per game.
The Dunkel Index projects Sam Houston State as a 39-point favorite in this matchup, which is above the Vegas line of 24 ½. The Index also has the final score total set at 70, which is over the Vegas total of 66 ½.
Dunkel's Pick: Sam Houston State (-24 ½); Over
Below are all of Dunkel's picks for this weekend's FCS contests:
APRIL 1
Sam Houston State at Northwestern State
Time: 7:00 pm ET
Dunkel Ratings: Sam Houston State 82.040; Northwestern State 42.986
Dunkel Line & Total: Sam Houston State by 39; 70
Vegas Line & Total: Sam Houston State by 24 ½; 66 ½
Dunkel Pick: Sam Houston State (-24 ½); Over
APRIL 2
Northern Iowa at South Dakota
Time: 7:00 pm ET
Dunkel Ratings: Northern Iowa 73.388; South Dakota 56.172
Dunkel Line & Total: Northern Iowa by 17; 43
Vegas Line & Total: Northern Iowa by 8 ½; 37 ½
Dunkel Pick: Northern Iowa (-8 ½); Over
APRIL 3
Albany at Delaware
Time: 12:00 pm ET
Dunkel Ratings: Albany 57.894; Delaware 69.093
Dunkel Line & Total: Delaware by 11; 35
Vegas Line & Total: Delaware by 14; 43 ½
Dunkel Pick: Albany (+14); Under
Villanova at Maine
Time: 12:00 pm ET
Dunkel Ratings: Villanova 62.001; Maine 64.020
Dunkel Line & Total: Maine by 2; 58
Vegas Line & Total: Villanova by 3 ½; 65 ½
Dunkel Pick: Maine (+3 ½); Under
James Madison at Richmond
Time: 12:00 pm ET
Dunkel Ratings: James Madison 82.807; Richmond 67.019
Dunkel Line & Total: James Madison by 16; 57
Vegas Line & Total: James Madison by 10 ½; 52
Dunkel Pick: James Madison (-10 ½); Over

New Hampshire at Rhode Island
Time: 1:00 pm ET
Dunkel Ratings: New Hampshire 60.986; Rhode Island 68.056
Dunkel Line & Total: Rhode Island by 7; 47
Vegas Line & Total: Rhode Island by 2 ½; 50 ½
Dunkel Pick: Rhode Island (-2 ½); Under

Bucknell at Holy Cross
Time: 1:00 pm ET
Dunkel Ratings: Bucknell 53.846; Holy Cross 50.507
Dunkel Line & Total: Bucknell by 3 ½; 50
Vegas Line & Total: Holy Cross by 7; 46
Dunkel Pick: Bucknell (+7); Over
The Citadel at Wofford
Time: 1:00 pm ET
Dunkel Ratings: The Citadel 41.639; Wofford 61.582
Dunkel Line & Total: Wofford by 20; 44
Vegas Line & Total: Wofford by 7 ½; 47
Dunkel Pick: Wofford (-7 ½); Under
Nicholls State at McNeese State
Time: 1:00 pm ET
Dunkel Ratings: Nicholls State 69.985; McNeese State 47.863
Dunkel Line & Total: Nicholls State by 22; 54
Vegas Line & Total: Nicholls State by 13 ½; 59
Dunkel Pick: Nicholls State (-13 ½); Under
Presbyterian at Stetson
Time: 1:00 pm ET
Dunkel Ratings: Presbyterian 36.759; Stetson 27.851
Dunkel Line & Total: Presbyterian by 9; 49
Vegas Line & Total: Presbyterian by 3; 43
Dunkel Pick: Presbyterian (-3); Over
Robert Morris at Kennesaw State
Time: 1:00 pm ET
Dunkel Ratings: Robert Morris 48.357; Kennesaw State 70.673
Dunkel Line & Total: Kennesaw State by 22 ½; 49
Vegas Line & Total: Kennesaw State by 19 ½; 52
Dunkel Pick: Kennesaw State (-19 ½); Under
Monmouth at Gardner-Webb
Time: 12:00 pm ET
Dunkel Ratings: Monmouth 67.061; Gardner-Webb 48.229
Dunkel Line & Total: Monmouth by 19; 62
Vegas Line & Total: Monmouth by 14; 57 1/2
Dunkel Pick: Monmouth (-14); Over
East Tennessee State at VMI
Time: 1:30 pm ET
Dunkel Ratings: East Tennessee State 53.419; VMI 64.752
Dunkel Line & Total: VMI by 11 ½; 42
Vegas Line & Total: VMI by 1 ½; 47 ½
Dunkel Pick: VMI (-1 ½); Under
Valparaiso at Drake
Time: 2:00 pm ET
Dunkel Ratings: Valparaiso 35.170; Drake 40.535
Dunkel Line & Total: Drake by 5 ½; 42
Vegas Line & Total: Drake by 13 ½; 37
Dunkel Pick: Valparaiso (+13 ½); Over
SE Missouri State at UT-Martin
Time: 2:00 pm ET
Dunkel Ratings: SE Missouri State 60.747; UT-Martin 49.356
Dunkel Line & Total: SE Missouri State by 11 ½; 40
Vegas Line & Total: SE Missouri State by 2 ½; 45 ½
Dunkel Pick: SE Missouri State (-2 ½); Under
Jacksonville State at Eastern Illinois
Time: 2:00 pm ET
Dunkel Ratings: Jacksonville State 63.315; Eastern Illinois 49.124
Dunkel Line & Total: Jacksonville State by 14; 41
Vegas Line & Total: Jacksonville State by 20 ½; 45
Dunkel Pick: Eastern Illinois (+20 ½); Under
South Carolina State at Alabama State
Time: 3:00 pm ET
Dunkel Ratings: South Carolina State 49.443; Alabama State 42.982
Dunkel Line & Total: South Carolina State by 6 ½; 47
Vegas Line & Total: South Carolina State by 1; 42
Dunkel Pick: South Carolina State (-1); Over
Tennessee State at Tennessee Tech
Time: 2:30 pm ET
Dunkel Ratings: Tennessee State 50.620; Tennessee Tech 48.909
Dunkel Line & Total: Tennessee State by 1 ½; 45
Vegas Line & Total: Tennessee Tech by 3; 49 ½
Dunkel Pick: Tennessee State (+3); Under
Alabama A&M at Prairie View
Time: 3:00 pm ET
Dunkel Ratings: Alabama A&M 50.029; Prairie View 54.441
Dunkel Line & Total: Prairie View by 4 ½; 43
Vegas Line & Total: Prairie View by 1 ½; 48
Dunkel Pick: Prairie View (-1 ½); Under
Morehead State at Butler
Time: 3:00 pm ET
Dunkel Ratings: Morehead State 35.523; Butler 27.517
Dunkel Line & Total: Morehead State by 8; 39
Vegas Line & Total: Butler by 1 ½; 43 ½
Dunkel Pick: Morehead State (+1 ½); Under
Murray State at Austin Peay
Time: 3:00 pm ET
Dunkel Ratings: Murray State 62.599; Austin Peay 61.806
Dunkel Line & Total: Murray State by 1; 57
Vegas Line & Total: Austin Peay by 3 ½; 52
Dunkel Pick: Murray State (+3 ½); Over
Davidson at San Diego
Time: 3:00 pm ET
Dunkel Ratings: Davidson 39.365; San Diego 56.675
Dunkel Line & Total: San Diego by 17 ½; 57
Vegas Line & Total: San Diego by 9 ½; 53
Dunkel Pick: San Diego (-9 ½); Over
Furman at Mercer
Time: 3:30 pm ET
Dunkel Ratings: Furman 67.047; Mercer 51.275
Dunkel Line & Total: Furman by 16; 43
Vegas Line & Total: Furman by 10 ½; 51 ½
Dunkel Pick: Furman (-10 ½); Under
Colgate at Fordham
Time: 4:00 pm ET
Dunkel Ratings: Colgate 45.889; Fordham 45.697
Dunkel Line & Total: Even; 41
Vegas Line & Total: Colgate by 4; 45 ½
Dunkel Pick: Fordham (+4); Under
Eastern Washington at UC-Davis
Time: 4:00 pm ET
Dunkel Ratings: Eastern Washington 69.501; UC-Davis 77.403
Dunkel Line & Total: UC-Davis by 8; 63
Vegas Line & Total: UC-Davis by 1 ½; 67 ½
Dunkel Pick: UC-Davis (-1 ½); Under
AR-Pine Bluff at Mississippi Valley State
Time: 4:00 pm ET
Dunkel Ratings: AR-Pine Bluff 51.393; Mississippi Valley State 24.293
Dunkel Line & Total: AR-Pine Bluff by 27; 61
Vegas Line & Total: AR-Pine Bluff by 18; 57 ½
Dunkel Pick: AR-Pine Bluff (-18); Over
Weber State at Southern Utah
Time: 4:00 pm ET
Dunkel Ratings: Weber State 79.861; Southern Utah 54.504
Dunkel Line & Total: Weber State by 25 ½; 42
Vegas Line & Total: Weber State by 19; 48
Dunkel Pick: Weber State (-19); Under
Southern at Jackson State
Time: 5:00 pm ET
Dunkel Ratings: Southern 51.068; Jackson State 45.080
Dunkel Line & Total: Southern by 6; 63
Vegas Line & Total: Southern by 1 ½; 58 ½
Dunkel Pick: Southern (-1 ½); Over
Idaho at Idaho State
Time: 6:00 pm ET
Dunkel Ratings: Idaho 68.264; Idaho State 54.072
Dunkel Line & Total: Idaho by 14; 50
Vegas Line & Total: Idaho by 5 ½; 55 ½
Dunkel Pick: Idaho (-5 ½); Under
Lamar at SE Louisiana
Time: 7:00 pm ET
Dunkel Ratings: Lamar 44.285; SE Louisiana 56.849
Dunkel Line & Total: SE Louisiana by 12 ½; 67
Vegas Line & Total: SE Louisiana by 16 ½; 61 ½
Dunkel Pick: Lamar (+16 ½); Over
Youngstown State at Western Illinois
Time: 8:00 pm ET
Dunkel Ratings: Youngstown State 63.777; Western Illinois 57.324
Dunkel Line & Total: Youngstown State by 6 ½; 43
Vegas Line & Total: Youngstown State by 10; 49
Dunkel Pick: Western Illinois (+10); Under